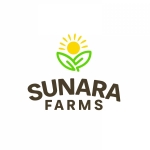 Sunara Farms
Nourish yourself… You deserve it.
Bringing you wholesome nutrition through all-natural superfoods
PROFILE
We're real people, making a real difference!
We invest in people, we believe that good things come from good people.
We do more than just create opportunities for an alternative means of income, we cultivate relationships.
We empower the local community members by teaching them more efficient and sustainable agriculture practices. This benefits everyone, especially Mother Nature.
Serving Humanity by Making Global Impact
This company is striving for impact in the following UN Sustainable Goals.